From Little Things
Bronte Counsel Began Her Career at Club Assist...Now, She's Shaping Our Future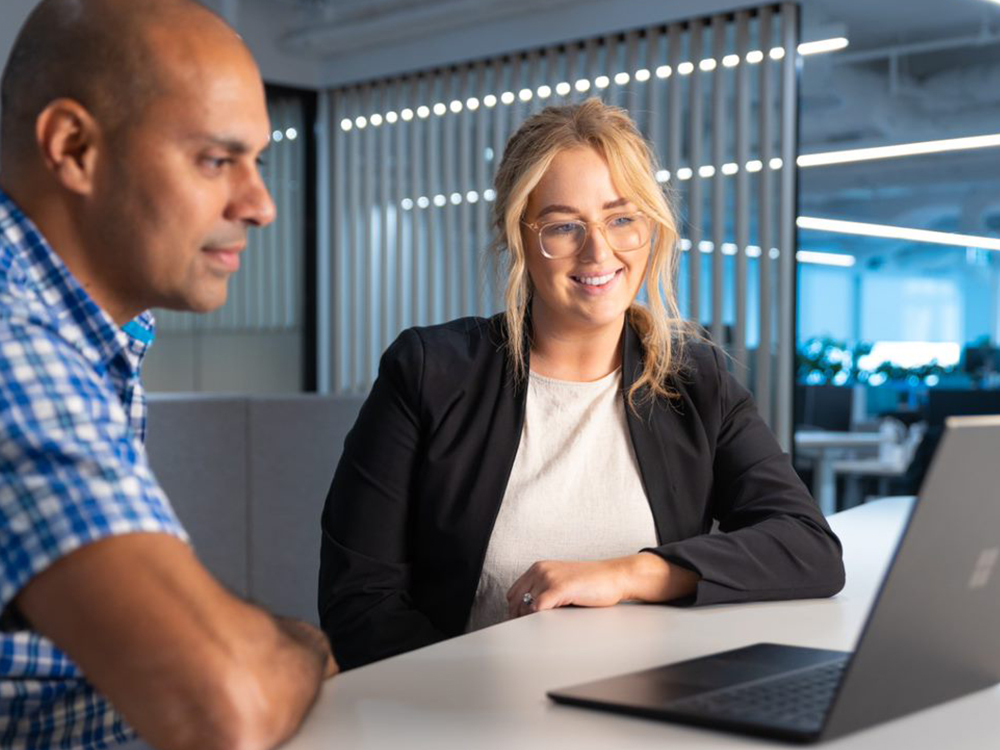 If there's one person who exemplifies Club Assist's values of We Can, We Do, We Care, it's Bronte Counsel. Our Talent Acquisition Advisor has paved her entire career with us, going from strength to strength in a variety of roles. From the day she started as a trainee receptionist, we have been continually amazed by Bronte's can-do attitude, resilience, and willingness to go above and beyond. And today, she's shaping the future of our business by finding the right people to help us grow.
A real connection with people who care
Like many young people, Bronte Counsel finished high school not knowing which direction to take. She had a strong work ethic and desire to begin a career, but her roles in customer service and beauty therapy left her feeling restless. Then, in 2014, Bronte saw an opportunity to start a traineeship with us at Club Assist. Naturally, she jumped at the chance."What struck me from the very start were the people and culture," Bronte says.
"From my first interview, I could tell the people at Club Assist were down to earth and genuine. Although I didn't really know what I wanted in my career at that stage, I knew I wanted to work with these people - they were a standout, and that's never changed. I was so excited when they gave me the position."Bronte's boundless energy has seen her rise through the ranks from administration trainee to recruitment expert at Club Assist APAC.
As specialists in battery sourcing, storage, and installation, we bring the car battery that journeys with you, then gets you safely home again. Bronte has been an integral member of our team, as we support the energy systems that power companies, economies, and careers. Seizing every opportunity that's come her way, Bronte has transferred her skills to various roles. In 2018, she became a Human Resources Coordinator. Moving into Talent Acquisition three years later was a natural progression for this energetic self-starter.
"Having been with Club Assist for quite some time, I've had significant exposure to all levels of the business," Bronte says. "I've built strong relationships in every state and unit. With an in-depth understanding of our culture, I understand what the business needs so it can grow in the right direction, and I'm excited to support Club Assist's vision."
Do you want to get hands-on today, with eyes on tomorrow? Drive real change, one improvement at a time - explore a career with Club Assist today.
The right people for the right roles
As our Talent Acquisition Adviser, Bronte identifies quality potential candidates for our operational-based roles, including roadside responders, warehouse operators, and delivery drivers. She works closely with hiring managers to determine the skills and capabilities required for these positions, as well as career progression opportunities and benefits for the employee.
"I shortlist candidates based on their experience, capability, and values. Then, it's about having real, in-depth conversations with those candidates to make sure they're the right fit for the role. The person needs to be technically competent, but they also have to be genuine, dedicated, resilient, and determined to achieve."
After struggling initially to find her own feet in the world of work, Bronte gets enormous satisfaction from finding the right people for the right roles. She also values the opportunity to help drive Club Assist's future.
"For me, finding like-minded people to join the business and make a difference is my motivation. I love having those happy conversations with people when I offer them a role. Their reaction says it all. I get to hear in their voice how excited they are to join us."
Driving real change - together
Bronte values the flexibility of her role. She gets to enjoy her "side gig" as a baker and cake decorator, as well as quality time with her husband and border collie. But above all, Bronte is grateful to be part of a motivated and supportive team.
"I have an amazing team behind me. We really do have a tight-knit culture - everyone is willing to go the extra mile for each other. Everyone respects and understands each other, and we make ourselves accountable to be the best we can be."
Over the years, Bronte has developed a wealth of insight into the values and capabilities necessary for people to thrive at Club Assist.
"Every day, we uphold our strong values of We Can, We Do, and We Care. To do well here, you need to have that can-do, all-in-this-together mentality. We take pride in our work, and we want to help each other succeed."
Looking back over Bronte's career, it's clear to us at Club Assist that she is the perfect example of our values in action. With pride, purpose and care, she's taken ownership of her career, and we can't wait to see how she will help us enter our next exciting chapter.
"I'm proud of my career progression with Club Assist; I've been supported to excel every step of the way. This business is on an amazing journey. I've seen many changes over the years, and I find my role integral to where we're going and what we're doing. There are a lot of exciting things in the pipeline, and I want to be around when those milestones happen."
Are you interested in working with us? If you want to do work that matters with an innovative, fast-growing company, explore your career opportunity with Club Assist today.