People-First Leadership
How Carly Wilken is Driving Sustainable Futures at Club Assist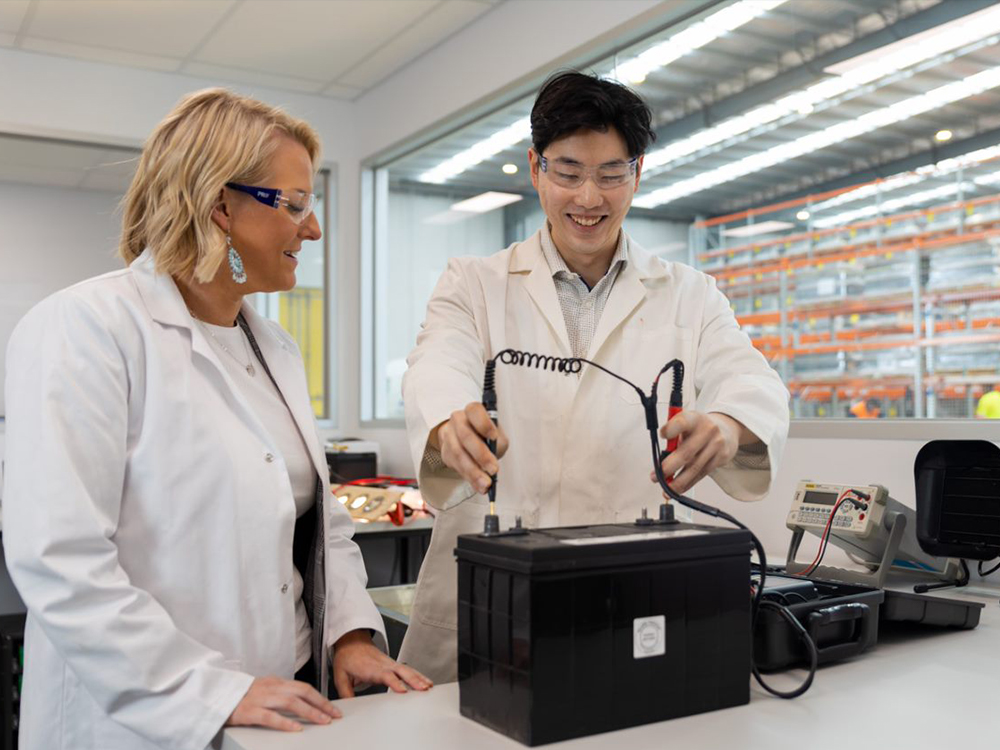 Carly Wilken is on a mission. She knows what she wants for her career and family, and she's put in the hard work to stay on track. This people-focused leader is equally as invested in the growth of her team members. At Club Assist, our Sales and Operations Manager supports her people and the business to strive for greatness. In turn, she's given the space and opportunities to thrive.
Hands on today, eyes on tomorrow
For someone who didn't enjoy school, Carly Wilken has put her heart and soul into her learning and development outside the classroom. This natural leader has taken a strategic approach to her career, carefully choosing each opportunity she pursues to reach even greater heights. At Club Assist, she's flourished as a progressive manager and mentor who sets the bar high and drives real change, one step at a time.
Carly is our Sales and Operations Manager for Western Australia, South Australia, and the Northern Territory. She's been on the highway to success ever since joining us in 2014. Now a champion of emerging female leaders, this mother-of-two is proof that with focus, determination and a team mindset, you can create a sustainable future - for yourself and others.
"I'm very fortunate to have been so supported throughout my career at Club Assist," Carly says. "I'm big on career planning and looking at the bigger picture. Our senior leaders support internal growth and offer plenty of opportunities for people to try something new. The cross-functional experiences you get at Club Assist are second to none. I've loved helping the business grow, and growing within it."
Do you want to get hands-on today, with eyes on tomorrow? Drive real change, one improvement at a time - explore a career with Club Assist today.
Winning, innovating, and growing fast
Although Carly felt uncertain about the future once she finished high school, leadership was in her DNA. A down-to-earth people person with a drive to achieve, she took the first big step towards her professional career with a Retail Management course at Woolworths. She then joined Coca-Cola Amatil as a Sales Consultant, where she was quickly identified as an ideal candidate for its Emerging Leaders Program.
"Things escalated pretty quickly, and I became a Team Sales Manager at 21," Carly says. She rose through the ranks, gaining HR, business development, and sales leadership experience across various roles. But after 10 years, it was time for the next big step in her career - with Club Assist.
"I like to work for great leaders," Carly says. "At Coke, I had a wonderful leader - Peter Nadori. When he left, I lost a mentor. Pete had moved to Club Assist to build its sales division, so when an opportunity arose for me to join him and work my way up to Sales Manager, I jumped. I wanted to continue to develop my career, and I saw that opportunity for growth within Club Assist."
Peter has since left the business, and Carly has had the opportunity to work with some amazingly experienced leaders, learning from their knowledge and skill set. As a result, her career continues to grow in leaps and bounds. From Sales Manager to Automotive Services Manager, Implementation Manager, and now Sales and Operations Manager, Carly provides support to Club Assist's state leaders in WA, SA and NT.
"It's a strategic role that's focused on how we can drive more growth and optimise processes for these states. I'm lucky to have such an experienced team on the ground. I'm excited to help build it so we can achieve even greater results."
Carly has worked on numerous projects at Club Assist, but the one she is most proud of is her work with Penske Australia.
"Penske is a huge commercial vehicle company with multiple divisions," Carly says. "My role was to bring this national account to life with our brand, Atomic Batteries. It was an end-to-end project that involved planning and implementing new processes, products, and service offerings. It took six months to go live. We're continuing to learn from that implementation, which we will build on moving forward with new customers."
Progressive leadership with heart
In addition to being a highly motivated team leader, Carly is a busy mum of two young boys aged three and five. She's grateful for the support she's received from Club Assist through maternity leave and her return to work - not to mention the support of her husband, a part-time stay-at-home dad.
As a female professional, Carly is committed to empowering emerging businesswomen. She volunteers at the Illawarra Women's Mentor Group, where she has been both a mentee and mentor. And of course, Carly is heavily invested in the growth of her people - not just within the states she leads but the broader Club Assist team.
"I'm proud of the development of our people. It's so rewarding to help them develop a career plan, and then watch that growth happen. I'm a big believer in working with people to try to get the best out of them, so they feel valued and part of the journey."
With her eyes firmly on the future, this agile leader plans to continue thriving in her role and reaching her goals at Club Assist.
"I'd like to work towards a General Manager role - that's the next step. I'm someone who's happy to get my hands on the ground. I'm not a micromanager - I'm all about trusting my people, leading by example, and having fun along the way. Club Assist feels like a family, and I value making a positive change that matters for our customers and our employees."
Are you interested in working with us? If you want to do work that matters with an innovative, fast-growing company, explore your career opportunity with Club Assist today.