Green Light to Success
How Ryan Paul Changed Gears to a Career with Club Assist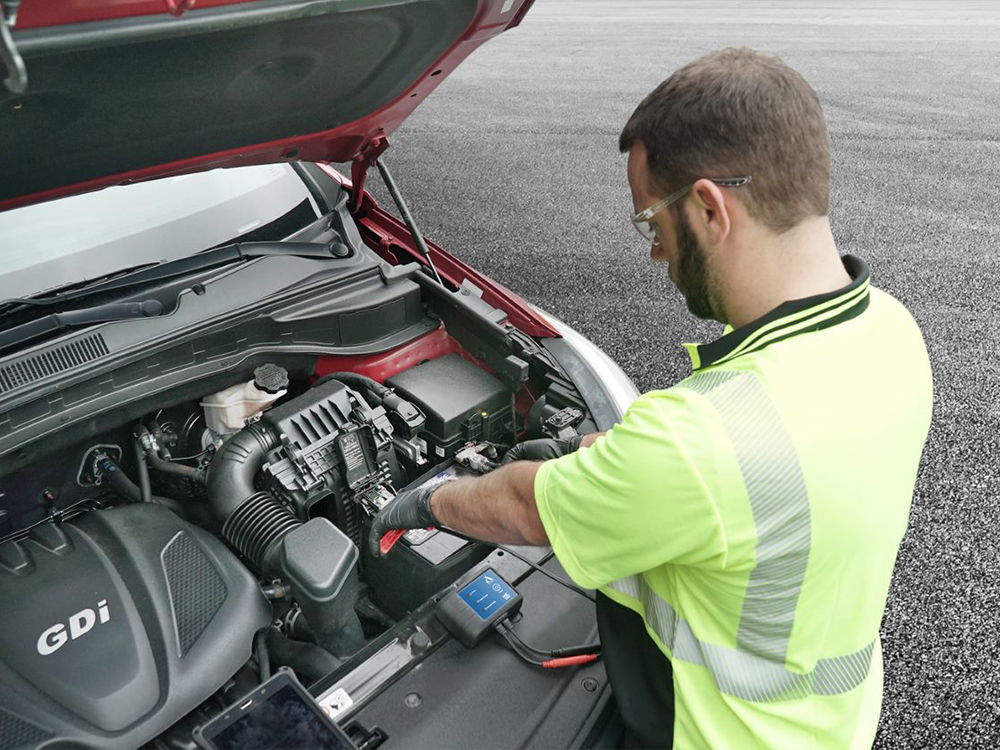 If you've broken down, got a flat battery, or lost your keys, Club Assist's Technical Roadside Responder Ryan Paul will get you back on track. This life-long car tinkerer may spend his days on the road, installing batteries and looking at engines, but he's a people person at heart. No day is the same for this down-to-earth and driven team player, who is dedicated to creating the best outcomes for his clients and colleagues.
Switching lanes
When you're stuck roadside, Ryan Paul is the man you want to see. If your battery's gone flat or you've locked your keys in your car, seeing our Technical Roadside Responder pull up beside you is like having a knight in shining armour (or, in this case, high-vis uniform) come to your rescue!
That's why it's hard to imagine how this friendly, motivated worker was often the last person people wanted to see in his previous role in an automotive workshop.
"When I was a Workshop Manager, I had to hand out big bills to people, and they weren't always happy to see that," Ryan says. "It did get me down a bit. I decided I didn't want to be behind four doors anymore. Now, as a Roadside Responder, every day is different out on the road. You get to meet a lot of people - and they're happy to see you."
Ryan joined us at Club Assist in 2017. After being a motor mechanic for most of his life, Ryan grew tired of working within the confines of a workshop. He craved a role where he could make a positive difference to someone's day, be part of a team that succeeds together, and feel valued for his work. He also wanted to get some fresh air! Today, as part of our Technical Roadside Responders team in Prospect, New South Wales, Ryan puts smiles on people's faces every day - rain, hail, or shine.
"We're such a close-knit team," Ryan says. "We can always joke with each other. There is a lot of solo work on the road, but if you need support, it's always there. Everyone is willing to help you - you've just got to ask."
Do you want to get hands-on today, with eyes on tomorrow? Drive real change, one improvement at a time - explore a career with Club Assist today.
Helping you get back on track
Flat batteries and key mishaps are one thing. Evicting animals and rescuing children are another level entirely! But these are the kinds of challenges Ryan and our Roadside Responders are only too quick to sort out on a day-to-day basis.
"The call-outs to rescue children in locked cars are very stressful at the time - the parents are frantic," Ryan says. "On a hot day, it can be very dangerous for the child. But once you get the kid out, it's very rewarding. The parents are ecstatic then. I've also had to deal with animals. Once, I got a call-out from someone who had a possum stuck under their dashboard! They'd left their car window open a bit, and in it went."
Being a Roadside Responder involves problem solving, quick thinking, and remaining calm under pressure. It also requires clear, effective communication.
"You definitely need to be a people person," Ryan says. "You've got to be able to talk to people. Often, it's not just about getting a car going - you need to let the person know what's wrong with the car and give them some guidance so they don't stress out too much."
Ryan nurtures such a respectful connection with his clients and colleagues, he was recently promoted to the role of Team Coach, where he supports, mentors, and is a sounding board for his team.
"I'm proud of the fact I get on so well with my team," Ryan says. "I'm grateful for the new challenge of this role, and I'm looking forward to seeing where it takes me. There are opportunities here at Club Assist - you do feel they give room for people to move up. They trust you, too. You're never micromanaged. That's important in any role - when you're trusted, you're a lot more comfortable doing your job, and you do it well."
Smooth road ahead
When Ryan's not helping people get back on the road, he's busy tinkering with cars or keeping up with his two teenage sons, aged 14 and 15. He's also a Scout Leader, which is a bit of a family tradition - his sons were in the Scouts, and his father was a Scout Leader, too. Ryan values his flexible, rotating roster, which helps him find the right work-life balance for him and his family.
"I actually get to see more of my kids now than when I was the manager of a workshop," Ryan says.
With a strong work ethic and willingness to go above and beyond, Ryan is a true reflection of Club Assist's values of we can, we do, we care. We're proud to have him on our team, putting people first with safety, respect, and understanding.
And for anyone thinking of joining Club Assist, Ryan's advice is simple: go for it!
"Just be yourself. This company will take you for who you are. The guys I work with, we're all different, but we are committed to doing our job, and doing it well. I like that I can be myself here. I enjoy my work now. It's a great place to be."
Are you interested in working with us? If you want to do work that matters with an innovative, fast-growing company, explore your career opportunity with Club Assist today.