Charging Forward
How Troy Darroch Leads His Team to Success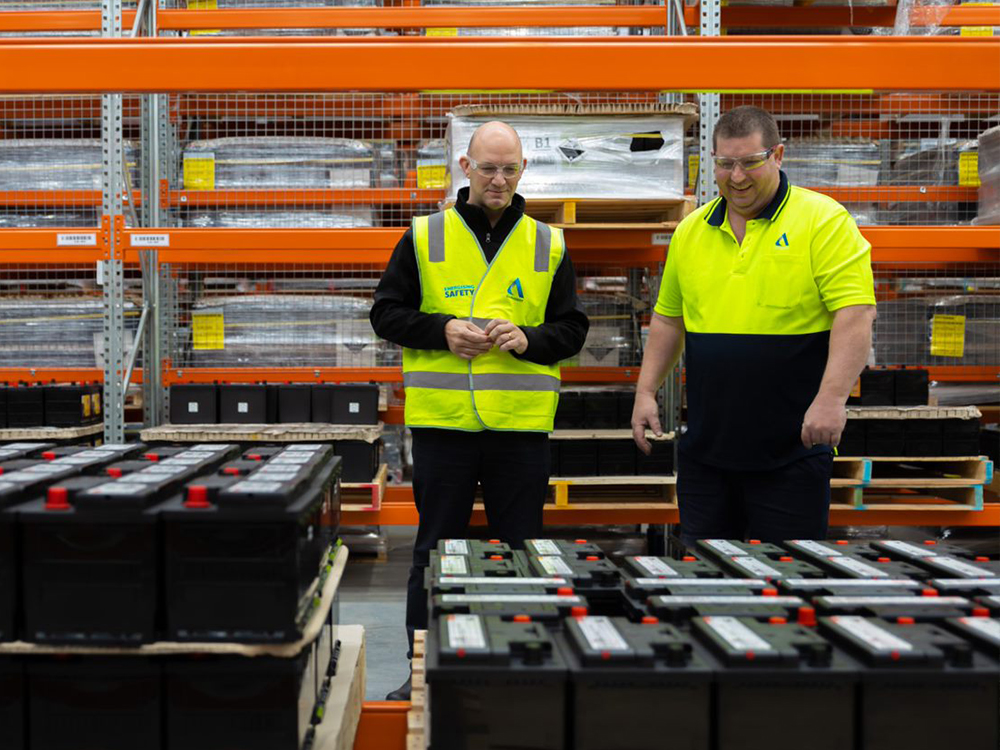 Troy Darroch is a busy man. As Warehouse Supervisor, he enjoys rolling up his sleeves and working alongside his down-to-earth team. Troy's passionate about driving real change, and as a proud father-of-five, he values the work-life balance he gets at Club Assist. And we value Troy's commitment to creating a safe and nurturing environment for his people.
A hands-on career
Great leaders don't tell you what to do - they show you how it's done. No one understands this more than Troy Darroch. Since taking on the role of Warehouse Supervisor, Troy has built a team of six reliable people who work tirelessly to bring our customers energy when they're in need. And he couldn't be more proud.
"I'm a big believer in leading by example," Troy says. "I like to demonstrate to my team what I expect of them on the floor. I give my workers as much information as possible so they know what the plan is going forward, and we can be successful. We're really down in the trenches together."
As an integral part of the team, Troy spends his days ensuring the operations at our warehouse in Melbourne run smoothly. This includes managing orders, directing traffic on the floor, and maintaining a safe work environment At Club Assist, Troy says you're encouraged to be hands-on in your role.
"I've learnt that I enjoy taking ownership of my work and getting stuck into it," Troy says. "I've had previous positions without that responsibility, and I quickly realised that I missed it. For me, part of that ownership means having a clean and tidy workfloor. That's something I won't budge on, and the team knows it! Together, we take great pride in it."
Do you want to get hands-on today, with eyes on tomorrow? Drive real change, one improvement at a time - explore a career with Club Assist today.
Greater balance
When he's not at work, you may spot Troy wearing a Parramatta Eels jersey. He grew up in the Sydney city before moving to the Central Coast at age 9. After graduating from high school, Troy joined the family business in stone masonry, but decided it wasn't his path to take. He spent time discovering himself through travel, and ended up working in paradise on Hamilton Island. Troy then went on to live in several Australian cities, working in various warehouse roles, until he settled in Melbourne. And with five kids to chase after, he certainly has his hands full!
"Family is really important to me," Troy says. "In the last two years, I've also taught myself how to sail. I really enjoy being able to do that. In one of my previous roles, I was working 60 to 70 hours a week, so my personal life was suffering because of it."
For Troy, everything changed when he joined Club Assist. He signed on as a casual worker in 2018, but soon forged his own path by taking over as Warehouse Supervisor. And now, Troy has the freedom to thrive in both his personal and professional life.
"At Club Assist, I feel like I have a great work-life balance - and it's a job I love doing," Troy says. "It's the people that make any workplace, and the people here are very supportive."
Hands on today, eyes on tomorrow
At Club Assist, we're thrilled to have someone like Troy as part of our team. He cares about the success of his people, and he's confident his story with us has only just begun.
"I love that Club Assist is looking at expanding into different markets," Troy says. "The industry is forever changing, and there's room for us to grow. There's new product ranges coming in, particularly with the implementation of lithium batteries in the future. It's an exciting time."
For those wanting to be part of Club Assist's success, Troy says you need to be adaptable and a team player. If you're joining him in the warehouse, he wants you to know there will be some heavy lifting and manual labour. But if you're up for the challenge, Troy believes you'll be rewarded with a fulfilling career in a team that upholds our values of We Can, We Do, We Care.
"The people around me are why I enjoy it so much," Troy says. "And there's so much opportunity. Club Assist is evolving and we are headed towards a really exciting future. I'm excited to be on board and to see what we can achieve together."
Are you interested in working with us? If you want to do work that matters with an innovative, fast-growing company, explore your career opportunity with Club Assist today.